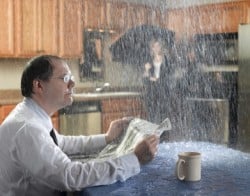 Sashco Roof Sealant Makes Repairs as Simple as ABC!
When you need a roof sealant that works and is easy to use, choose Through the Roof!
Does this sound familiar? "I have sealed this same leak four times with roofing tar and each time, the leak returns."
You're not alone. You want something to seal that nagging roof leak, but don't want to spend even more time removing all of the other roof repair products you've already used.
Good news: no need to remove existing roof repairs!
Sashco's Through the ROOF!® will stick to and seal over a variety of existing roof repair products, including:
Asphalt
Roof cement
Bitumen products
EPDM rubber*
Most roof sheet coatings
And more!
Through the ROOF!® can even be applied in the middle of a rain or snow storm!
OK – one caveat: Silicone must be removed. Nothing sticks to silicone, including silicone, so it will have to come off. After testing several products, we've found that McKanica® Silicone Caulk Remover works the best. It's available at hardware stores nationwide.
Here's how to do it:
1) Thoroughly clean the surface.
Make sure it's free of dust, bird poo, loose or flaking roof materials, etc. And, as mentioned above, get rid of silicone if it's present.
2) Apply Through the ROOF!®
If using the brush-on formula, use a disposable foam paintbrush and apply no less than 1/16″ thick. If sealing cracks in existing asphalt roof repairs or other roof cement, make sure you get enough down in the cracked asphalt, as well as around the edges of the repair to truly ensure it's sealed. If using the traditional cartridge formula, be sure to smooth it out on the surface to ensure it's adhering well to the existing patch, as well as an extra 1/8″ to 1/4″ beyond the existing patch.
3) Enjoy staying dry.
Congratulations! You just sealed that nagging roof leak and can enjoy the fruits of your labor, namely a leak-free home.
Don't take our word for it.
Be sure to check out Through the ROOF!® reviews over at Amazon.com where survivors of years-long leaks have finally been able to say "5 year leak GONE!" This could be you, too. Then, hop in your car for a visit to your nearest Sashco retailer to pick up your own Through the ROOF!® before El Nio and hurricane season have you scrambling.
See also:
Caulking 101: Do It Right The First Time
VIDEO: The Many Uses of Through the ROOF!®
VIDEO: Roof Villains Are Banished by Through the ROOF!®
* NOTE: Through the ROOF!® may warp or wrinkle rubber, although it will still hold the seal. Test first to ensure you are OK with the final appearance.